So I realize I may be behind on the Quest Nutrition craze…
but to be fair, I was Vegan for some time (so cut me some slack!)
Many people already know that Quest Nutrition offers delicious protein bars (known as quest bars) which come in a variety of flavors – their newest flavor is s'mores which I will review in another post.
But did you know that Quest Nutrition also offers Protein Powder now?!
I heard wonderful things about their protein powder, so I decided to treat myself and buy it from my local Vitamin Shoppe.
I got the peanut butter flavor (there was only one left!), but it also comes in Chocolate, Vanilla and Strawberries & Cream flavor. They even have multi-purpose mix which is best for cooking and baking.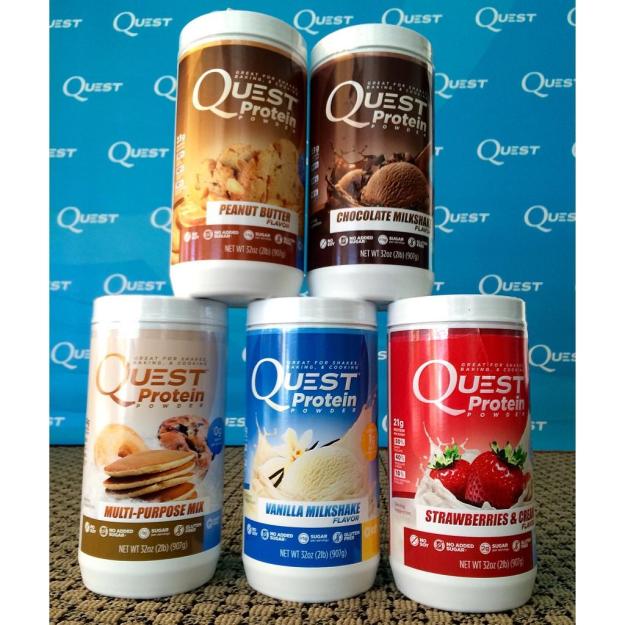 The macros for this protein powder is phenomenal. 1 scoop (30 g) is only 110 calories, 23 grams Protein, 2 grams Carbohydrate, 2 grams Fat, and less than 1 gram of sugar.
In addition, their protein powder is certified gluten-free and soy free. Not only that, but all Quest Nutrition protein powders are lactose-free. Their protein blends contain whey protein isolate which is the more highly-filtered form of whey protein where nearly all of the lactose (milk sugars) are filtered out from the product. However if you're entirely sensitive to milk products, it still contains milk derived ingredients, so it's not good for people with a milk allergy or certain dietary restrictions such as veganism.
I give this protein powder an A plus rating! The only down-fall is the cost. It is on the higher end of what I would like to pay ($37.99 at the Vitamin Shoppe), but for what it's worth…the price is right. The macros are clean, and the quality of the protein they use makes this product worth buying.
There are so many things you could do with their protein powder since it's so versatile. You can bake cookies, cakes, muffins, brownies, etc. Or you can cook with it, and make pancakes, french toast, waffles, soups, etc.
My favorite thing to do with their protein is make frozen treats for my late night sweet tooth.
I'm always craving something chocolate at night. I don't know what it is, but I just always need a little something sweet to pop into my mouth after dinner.
These protein peanut butter cups are not only delicious, but guilt-free.
And yes, you may eat all of them because it's all but good ingredients.
Quest Protein Peanut Butter Cups
Ingredients:
For the Peanut Butter Layer:
1 scoop (30 g) Quest Nutrition Peanut Butter Protein Powder
2-3 tbsp unsweetened almond milk
For the Chocolate Layer:
2 tbsp unsweetened cocoa powder
2 packets of 0-calorie sweetener
2-3 tbsp water
Instructions:
Set out to bowls on a counter. In one bowl, mix together your protein powder and almond milk. Start out with 2 tbsp and add more if it's too thick. (*I only used 2 tbsp, and my mixture was very thick which I like*). Divide your peanut butter layer among three mini silicone cupcake liners. Make sure to spread it out evenly until it covers the entire bottom.
In your other bowl, mix together your cocoa powder, sweetener and water. Whisk everything together well and until dissolved. (*It will seem like it won't dissolve at first, but it will. Just keep whisking fast until you get a nice creamy chocolate mixture*) As soon as your chocolate mixture is ready, carefully divide the chocolate on top of each peanut butter layer. Smooth over each layer so it covers the entire peanut butter layer.
Finally, place in your freezer for at least 45 minutes – 1 hour before enjoying.
Macros (for all three cups):
Calories: 150 kcal
Carbs: 11 g
Protein: 25 g
Fat: 2 g
How do you cheat clean?!
http://www.questnutrition.com/protein-powders/peanut-butter-2lb-canister/